Hi there,
I want to share this list , I think that helps a lot when tried to found right reflections/refractions on Vray materials.
A lot of 3d applications these days allow you to input actual IOR values in order to achieve a more accurate representation of surfaces during rendering of your 3d models.
The fresnel IOR and IOR are actually linked in V-ray  because this is how the materials work in real life. It means that if a material has an IOR of 3 then so is its fresnel IOR as well.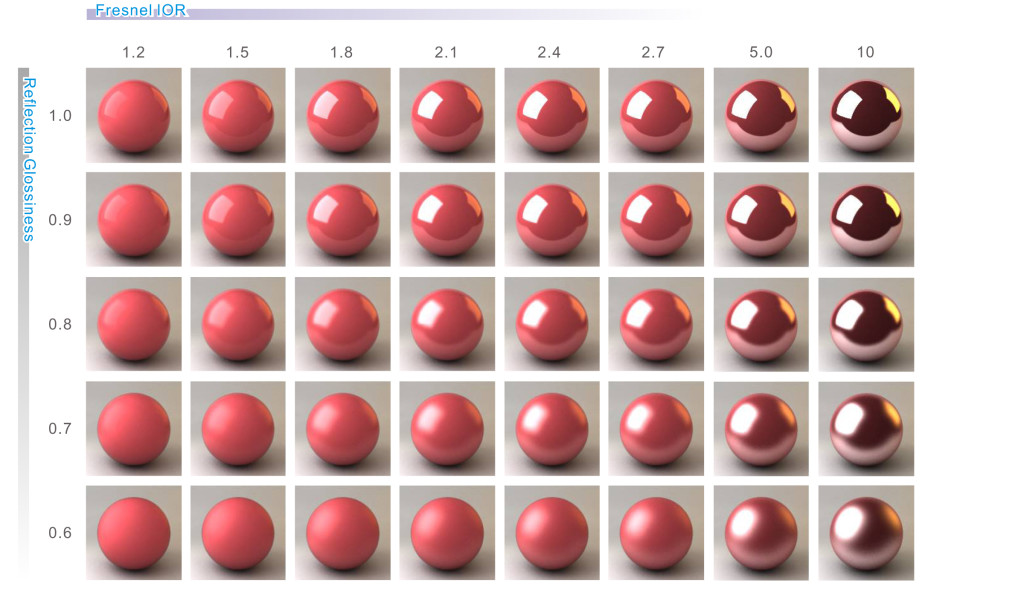 Material IOR Values:
Acetone 1.36
Actinolite 1.618
Agalmatoite 1.550
Agate 1.544
Agate, Moss 1.540
Air 1.0002926
Alcohol 1.329
Alexandrite 1.745
Aluminum 1.44
Amber 1.546
Amblygonite 1.611
Amethyst 1.544
Anatase 2.490
Andalusite 1.641
Anhydrite 1.571
Apatite 1.632
Apophyllite 1.536
Aquamarine 1.577
Aragonite 1.530
Argon 1.000281
Asphalt 1.635
Augelite 1.574
Axinite 1.675
Azurite 1.730
Barite 1.636
Barytocalcite 1.684
Benitoite 1.757
Benzene 1.501
Beryl 1.577
Beryllonite 1.553
Brazilianite 1.603
Bromine (liq) 1.661
Bronze 1.18
Brownite 1.567
Calcite 1.486
Calspar 1.486
Cancrinite 1.491
Carbon Dioxide (gas) 1.000449
Carbon Disulfide 1.628
Carbon Tetrachloride 1.460
Cassiterite 1.997
Celestite 1.622
Cerussite 1.804
Ceylanite 1.770
Chalcedony 1.530
Chalk 1.510
Chalybite 1.630
Chlorine (gas) 1.000768
Chlorine (liq) 1.385
Chrome Green 2.4
Chrome Red 2.42
Chrome Yellow 2.31
Chromium 2.97
Chrysoberyl 1.745
Chrysocolla 1.500
Chrysoprase 1.534
Citrine 1.550
Clinozoisite 1.724
Cobalt Blue 1.74
Cobalt Green 1.97
Cobalt Violet 1.71
Colemanite 1.586
Copper 1.10
Copper Oxide 2.705
Coral 1.486
Cordierite 1.540
Corundum 1.766
Crocoite 2.310
Crystal 2.00
Cuprite 2.850
Danburite 1.633
Diamond 2.417
Diopside 1.680
Dolomite 1.503
Dumortierite 1.686
Ebonite 1.66
Ekanite 1.600
Elaeolite 1.532
Emerald 1.576
Emerald, Synth flux 1.561
Emerald, Synth hydro 1.568
Enstatite 1.663
Epidote 1.733
Ethanol 1.36
Ethyl Alcohol 1.36
Euclase 1.652
Fabulite 2.409
Feldspar, Adventurine 1.532
Feldspar, Albite 1.525
Feldspar, Amazonite 1.525
Feldspar, Labradorite 1.565
Feldspar, Microcline 1.525
Feldspar, Oligoclase 1.539
Feldspar, Orthoclase 1.525
Fluoride 1.56
Fluorite 1.434
Formica 1.47
Garnet, Almandine 1.760
Garnet, Almandite 1.790
Garnet, Andradite 1.820
Garnet, Demantoid 1.880
Garnet, Grossular 1.738
Garnet, Hessonite 1.745
Garnet, Rhodolite 1.760
Garnet, Spessartite 1.810
Gaylussite 1.517
Glass 1.51714
Glass, Albite 1.4890
Glass, Crown 1.520
Glass, Crown, Zinc 1.517
Glass, Flint, Dense 1.66
Glass, Flint, Heaviest 1.89
Glass, Flint, Heavy 1.65548
Glass, Flint, Lanthanum 1.80
Glass, Flint, Light 1.58038
Glass, Flint, Medium 1.62725
Glycerine 1.473
Gold 0.47
Hambergite 1.559
Hauynite 1.502
Helium 1.000036
Hematite 2.940
Hemimorphite 1.614
Hiddenite 1.655
Howlite 1.586
Hydrogen (gas) 1.000140
Hydrogen (liq) 1.0974
Hypersthene 1.670
Ice 1.309
Idocrase 1.713
Iodine Crystal 3.34
Iolite 1.548
Iron 1.51
Ivory 1.540
Jade, Nephrite 1.610
Jadeite 1.665
Jasper 1.540
Jet 1.660
Kornerupine 1.665
Kunzite 1.655
Kyanite 1.715
Lapis Gem 1.500
Lapis Lazuli 1.61
Lazulite 1.615
Lead 2.01
Leucite 1.509
Magnesite 1.515
Malachite 1.655
Meerschaum 1.530
Mercury (liq) 1.62
Methanol 1.329
Moldavite 1.500
Moonstone, Adularia 1.525
Moonstone, Albite 1.535
Natrolite 1.480
Nephrite 1.600
Nitrogen (gas) 1.000297
Nitrogen (liq) 1.2053
Nylon 1.53
Obsidian 1.489
Olivine 1.670
Onyx 1.486
Opal 1.450
Oxygen (gas) 1.000276
Oxygen (liq) 1.221
Painite 1.787
Pearl 1.530
Periclase 1.740
Peridot 1.654
Peristerite 1.525
Petalite 1.502
Phenakite 1.650
Phosgenite 2.117
Plastic 1.460
Plexiglas 1.50
Polystyrene 1.55
Prase 1.540
Prasiolite 1.540
Prehnite 1.610
Proustite 2.790
Purpurite 1.840
Pyrite 1.810
Pyrope 1.740
Quartz 1.544
Quartz, Fused 1.45843
Rhodizite 1.690
Rhodochrisite 1.600
Rhodonite 1.735
Rock Salt 1.544
Rubber, Natural 1.5191
Ruby 1.760
Rutile 2.62
Sanidine 1.522
Sapphire 1.760
Scapolite 1.540
Scapolite, Yellow 1.555
Scheelite 1.920
Selenium, Amorphous 2.92
Serpentine 1.560
Shell 1.530
Silicon 4.24
Sillimanite 1.658
Silver 0.18
Sinhalite 1.699
Smaragdite 1.608
Smithsonite 1.621
Sodalite 1.483
Sodium Chloride 1.544
Sphalerite 2.368
Sphene 1.885
Spinel 1.712
Spodumene 1.650
Staurolite 1.739
Steatite 1.539
Steel 2.50
Stichtite 1.520
Strontium Titanate 2.410
Styrofoam 1.595
Sulphur 1.960
Synthetic Spinel 1.730
Taaffeite 1.720
Tantalite 2.240
Tanzanite 1.691
Teflon 1.35
Thomsonite 1.530
Tiger eye 1.544
Topaz 1.620
Topaz, Blue 1.610
Topaz, Pink 1.620
Topaz, White 1.630
Topaz, Yellow 1.620
Tourmaline 1.624
Tremolite 1.600
Tugtupite 1.496
Turpentine 1.472
Turquoise 1.610
Ulexite 1.490
Uvarovite 1.870
Variscite 1.550
Vivianite 1.580
Wardite 1.590
Water (gas) 1.000261
Water 100'C 1.31819
Water 20'C 1.33335
Water 35'C (Room temp) 1.33157
Willemite 1.690
Witherite 1.532
Wulfenite 2.300
Zincite 2.010
Zircon, High 1.960
Zircon, Low 1.800
Zirconia, Cubic 2.170